WindowexeRegToBat Introduction


Features
The WindowexeRetToBat software is a can be converted to a batch file from registry values.
Support drag and drop, from clipboard, from registry path.
If you double-click the cell, selected cell will be deleted.
If the key is not declared, it will be set to the default key. (HKEY_CURRENT_USER\Software\test)

[Convert to ADD] add value to batch script.
[Convert to DEL] remove value to batch script.
[syswow64] 32bit application's registry in 64bit OS
[set default value] Uncheck : does not display an empty string. check : All set to the default value of registry key.




Converted batch file. (WindowexeRegToBat_add.bat)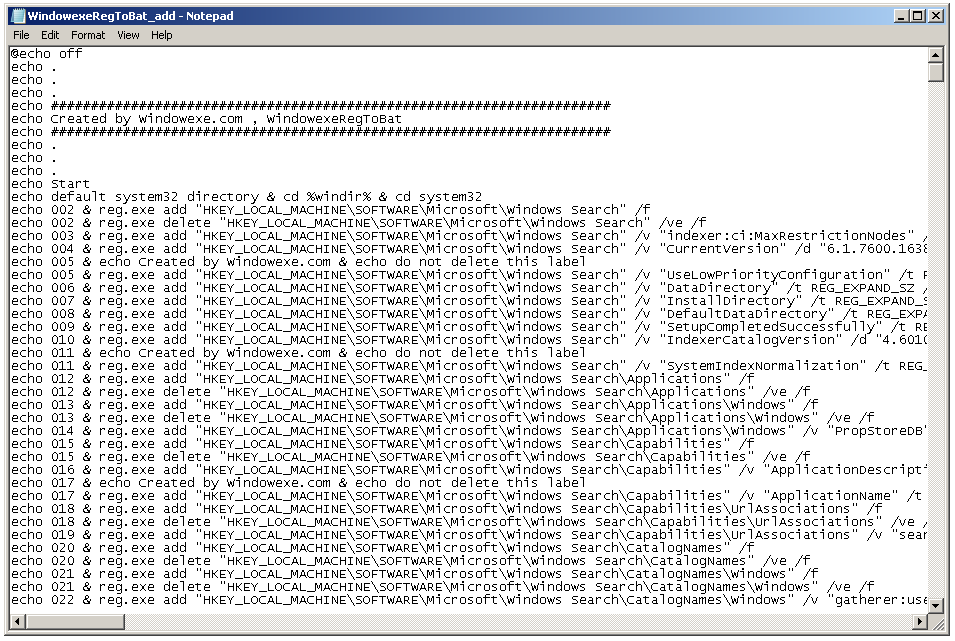 Download : WindowexeRegToBat.zip
System Requirements : .Net framework 2.0 or higher , Windows 2000, xp, vista, 7, 8 32/64bit

If there is an execution error with Windows XP, download and install .Net framework 2.0
http://www.microsoft.com/en-us/download/details.aspx?id=16614


Known bugs.
It is not possible to convert longer than hundred thousand characters. (hex value's length)
if hex(0):'s value not exists, set to 00 00 instead of Null.

test sample.reg

Windows Registry Editor Version 5.00

[HKEY_LOCAL_MACHINE\SOFTWARE\Microsoft\Windows\CurrentVersion\Diagnostics]

[HKEY_LOCAL_MACHINE\SOFTWARE\Microsoft\Windows\CurrentVersion\Diagnostics\Performance]
"MinimumBuffers"=dword:00000010
"BinariesExtensionList"=hex(2):2e,00,65,00,78,00,65,00,3a,00,2e,00,64,00,6c,00,\
6c,00,3a,00,2e,00,73,00,79,00,73,00,3a,00,2e,00,64,00,62,00,3a,00,2e,00,63,\
00,70,00,6c,00,3a,00,2e,00,6d,00,75,00,69,00,3a,00,2e,00,63,00,6d,00,64,00,\
3a,00,2e,00,6c,00,6e,00,6b,00,00,00
"MaximumBuffers"=dword:00000100
"BufferSize"=dword:00000040

[HKEY_LOCAL_MACHINE\SOFTWARE\Microsoft\Windows\CurrentVersion\Diagnostics\Performance\Boot]
"PostBootMajorThreshold_Sec"=dword:0000003c
"PostBootMinorThreshold_Sec"=dword:0000001e
"BootMajorThreshold_Sec"=dword:00000078
"HardThresholds_CritServicesList"="CscService,DcomLaunch,EventLog,EventSystem,gpsvc,PlugPlay,ProfSvc,RpcSs,SENS,Themes,MMCSS,AudioEndpointBuilder,Audiosrv,Windefend"
"BootMinorThreshold_Sec"=dword:0000003c
"PostBootDelay_Sec"=dword:0000005a
"UserWaitTimeout_Sec"=dword:0000003c
"PostBoot_TimeToAccumulate_Sec"=dword:0000000a
"PostBoot_BusyThreshold"=dword:00000014
"MinDelayPercentageToIdentify"=dword:0000000a
"NumInitialBootsToIgnore"=dword:00000001



converted batch file (check set default value)

@echo off
echo .
echo .
echo .
echo ######################################################################
echo Created by Windowexe.com , WindowexeRegToBat
echo ######################################################################
echo .
echo .
echo .
echo Start
echo default system32 directory & cd %windir% & cd system32
echo 002 & reg.exe add "HKEY_LOCAL_MACHINE\SOFTWARE\Microsoft\Windows\CurrentVersion\Diagnostics" /f
echo 002 & reg.exe delete "HKEY_LOCAL_MACHINE\SOFTWARE\Microsoft\Windows\CurrentVersion\Diagnostics" /ve /f
echo 003 & reg.exe add "HKEY_LOCAL_MACHINE\SOFTWARE\Microsoft\Windows\CurrentVersion\Diagnostics\Performance" /f
echo 003 & reg.exe delete "HKEY_LOCAL_MACHINE\SOFTWARE\Microsoft\Windows\CurrentVersion\Diagnostics\Performance" /ve /f
echo 004 & reg.exe add "HKEY_LOCAL_MACHINE\SOFTWARE\Microsoft\Windows\CurrentVersion\Diagnostics\Performance" /v "MinimumBuffers" /t REG_DWORD /d "16" /f
echo 005 & echo Created by Windowexe.com & echo do not delete this label
echo 005 & reg.exe add "HKEY_LOCAL_MACHINE\SOFTWARE\Microsoft\Windows\CurrentVersion\Diagnostics\Performance" /v "BinariesExtensionList" /t REG_EXPAND_SZ /d ".exe:.dll:.sys:.db:.cpl:.mui:.cmd:.lnk" /f
echo 006 & reg.exe add "HKEY_LOCAL_MACHINE\SOFTWARE\Microsoft\Windows\CurrentVersion\Diagnostics\Performance" /v "MaximumBuffers" /t REG_DWORD /d "256" /f
echo 007 & reg.exe add "HKEY_LOCAL_MACHINE\SOFTWARE\Microsoft\Windows\CurrentVersion\Diagnostics\Performance" /v "BufferSize" /t REG_DWORD /d "64" /f
echo 008 & reg.exe add "HKEY_LOCAL_MACHINE\SOFTWARE\Microsoft\Windows\CurrentVersion\Diagnostics\Performance\Boot" /f
echo 008 & reg.exe delete "HKEY_LOCAL_MACHINE\SOFTWARE\Microsoft\Windows\CurrentVersion\Diagnostics\Performance\Boot" /ve /f
echo 009 & reg.exe add "HKEY_LOCAL_MACHINE\SOFTWARE\Microsoft\Windows\CurrentVersion\Diagnostics\Performance\Boot" /v "PostBootMajorThreshold_Sec" /t REG_DWORD /d "60" /f
echo 010 & reg.exe add "HKEY_LOCAL_MACHINE\SOFTWARE\Microsoft\Windows\CurrentVersion\Diagnostics\Performance\Boot" /v "PostBootMinorThreshold_Sec" /t REG_DWORD /d "30" /f
echo 011 & echo Created by Windowexe.com & echo do not delete this label
echo 011 & reg.exe add "HKEY_LOCAL_MACHINE\SOFTWARE\Microsoft\Windows\CurrentVersion\Diagnostics\Performance\Boot" /v "BootMajorThreshold_Sec" /t REG_DWORD /d "120" /f
echo 012 & reg.exe add "HKEY_LOCAL_MACHINE\SOFTWARE\Microsoft\Windows\CurrentVersion\Diagnostics\Performance\Boot" /v "HardThresholds_CritServicesList" /d "CscService,DcomLaunch,EventLog,EventSystem,gpsvc,PlugPlay,ProfSvc,RpcSs,SENS,Themes,MMCSS,AudioEndpointBuilder,Audiosrv,Windefend" /f
echo 013 & reg.exe add "HKEY_LOCAL_MACHINE\SOFTWARE\Microsoft\Windows\CurrentVersion\Diagnostics\Performance\Boot" /v "BootMinorThreshold_Sec" /t REG_DWORD /d "60" /f
echo 014 & reg.exe add "HKEY_LOCAL_MACHINE\SOFTWARE\Microsoft\Windows\CurrentVersion\Diagnostics\Performance\Boot" /v "PostBootDelay_Sec" /t REG_DWORD /d "90" /f
echo 015 & reg.exe add "HKEY_LOCAL_MACHINE\SOFTWARE\Microsoft\Windows\CurrentVersion\Diagnostics\Performance\Boot" /v "UserWaitTimeout_Sec" /t REG_DWORD /d "60" /f
echo 016 & reg.exe add "HKEY_LOCAL_MACHINE\SOFTWARE\Microsoft\Windows\CurrentVersion\Diagnostics\Performance\Boot" /v "PostBoot_TimeToAccumulate_Sec" /t REG_DWORD /d "10" /f
echo 017 & echo Created by Windowexe.com & echo do not delete this label
echo 017 & reg.exe add "HKEY_LOCAL_MACHINE\SOFTWARE\Microsoft\Windows\CurrentVersion\Diagnostics\Performance\Boot" /v "PostBoot_BusyThreshold" /t REG_DWORD /d "20" /f
echo 018 & reg.exe add "HKEY_LOCAL_MACHINE\SOFTWARE\Microsoft\Windows\CurrentVersion\Diagnostics\Performance\Boot" /v "MinDelayPercentageToIdentify" /t REG_DWORD /d "10" /f
echo 019 & reg.exe add "HKEY_LOCAL_MACHINE\SOFTWARE\Microsoft\Windows\CurrentVersion\Diagnostics\Performance\Boot" /v "NumInitialBootsToIgnore" /t REG_DWORD /d "1" /f
echo End
echo .
echo .
echo .
echo ######################################################################
echo Created by Windowexe.com , WindowexeRegToBat
echo ######################################################################
echo .
echo .
echo .
pause


converted batch file (uncheck set default value, display name exists or value exists. hide blank registry key.)

@echo off
echo .
echo .
echo .
echo ######################################################################
echo Created by Windowexe.com , WindowexeRegToBat
echo ######################################################################
echo .
echo .
echo .
echo Start
echo default system32 directory & cd %windir% & cd system32
echo 004 & reg.exe add "HKEY_LOCAL_MACHINE\SOFTWARE\Microsoft\Windows\CurrentVersion\Diagnostics\Performance" /v "MinimumBuffers" /t REG_DWORD /d "16" /f
echo 005 & echo Created by Windowexe.com & echo do not delete this label
echo 005 & reg.exe add "HKEY_LOCAL_MACHINE\SOFTWARE\Microsoft\Windows\CurrentVersion\Diagnostics\Performance" /v "BinariesExtensionList" /t REG_EXPAND_SZ /d ".exe:.dll:.sys:.db:.cpl:.mui:.cmd:.lnk" /f
echo 006 & reg.exe add "HKEY_LOCAL_MACHINE\SOFTWARE\Microsoft\Windows\CurrentVersion\Diagnostics\Performance" /v "MaximumBuffers" /t REG_DWORD /d "256" /f
echo 007 & reg.exe add "HKEY_LOCAL_MACHINE\SOFTWARE\Microsoft\Windows\CurrentVersion\Diagnostics\Performance" /v "BufferSize" /t REG_DWORD /d "64" /f
echo 009 & reg.exe add "HKEY_LOCAL_MACHINE\SOFTWARE\Microsoft\Windows\CurrentVersion\Diagnostics\Performance\Boot" /v "PostBootMajorThreshold_Sec" /t REG_DWORD /d "60" /f
echo 010 & reg.exe add "HKEY_LOCAL_MACHINE\SOFTWARE\Microsoft\Windows\CurrentVersion\Diagnostics\Performance\Boot" /v "PostBootMinorThreshold_Sec" /t REG_DWORD /d "30" /f
echo 011 & echo Created by Windowexe.com & echo do not delete this label
echo 011 & reg.exe add "HKEY_LOCAL_MACHINE\SOFTWARE\Microsoft\Windows\CurrentVersion\Diagnostics\Performance\Boot" /v "BootMajorThreshold_Sec" /t REG_DWORD /d "120" /f
echo 012 & reg.exe add "HKEY_LOCAL_MACHINE\SOFTWARE\Microsoft\Windows\CurrentVersion\Diagnostics\Performance\Boot" /v "HardThresholds_CritServicesList" /d "CscService,DcomLaunch,EventLog,EventSystem,gpsvc,PlugPlay,ProfSvc,RpcSs,SENS,Themes,MMCSS,AudioEndpointBuilder,Audiosrv,Windefend" /f
echo 013 & reg.exe add "HKEY_LOCAL_MACHINE\SOFTWARE\Microsoft\Windows\CurrentVersion\Diagnostics\Performance\Boot" /v "BootMinorThreshold_Sec" /t REG_DWORD /d "60" /f
echo 014 & reg.exe add "HKEY_LOCAL_MACHINE\SOFTWARE\Microsoft\Windows\CurrentVersion\Diagnostics\Performance\Boot" /v "PostBootDelay_Sec" /t REG_DWORD /d "90" /f
echo 015 & reg.exe add "HKEY_LOCAL_MACHINE\SOFTWARE\Microsoft\Windows\CurrentVersion\Diagnostics\Performance\Boot" /v "UserWaitTimeout_Sec" /t REG_DWORD /d "60" /f
echo 016 & reg.exe add "HKEY_LOCAL_MACHINE\SOFTWARE\Microsoft\Windows\CurrentVersion\Diagnostics\Performance\Boot" /v "PostBoot_TimeToAccumulate_Sec" /t REG_DWORD /d "10" /f
echo 017 & echo Created by Windowexe.com & echo do not delete this label
echo 017 & reg.exe add "HKEY_LOCAL_MACHINE\SOFTWARE\Microsoft\Windows\CurrentVersion\Diagnostics\Performance\Boot" /v "PostBoot_BusyThreshold" /t REG_DWORD /d "20" /f
echo 018 & reg.exe add "HKEY_LOCAL_MACHINE\SOFTWARE\Microsoft\Windows\CurrentVersion\Diagnostics\Performance\Boot" /v "MinDelayPercentageToIdentify" /t REG_DWORD /d "10" /f
echo 019 & reg.exe add "HKEY_LOCAL_MACHINE\SOFTWARE\Microsoft\Windows\CurrentVersion\Diagnostics\Performance\Boot" /v "NumInitialBootsToIgnore" /t REG_DWORD /d "1" /f
echo End
echo .
echo .
echo .
echo ######################################################################
echo Created by Windowexe.com , WindowexeRegToBat
echo ######################################################################
echo .
echo .
echo .
pause